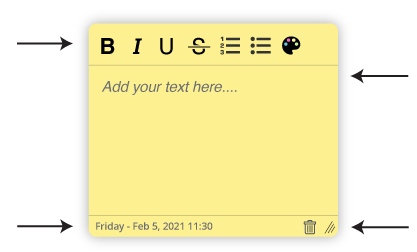 Style Your Notes
Bold, italic, underline, strike-thru, numbered or bulleted lists, and even change the color of your note.
Date and Time
Never second-guess when your note was created with a convenient time-stamp.
Add Unlimited Text
There is no limit to how much text you can include in your note. Add as much or as little text as you need.
Delete or Resize
Drag the 3 lines in the corner of the note to resize.Done with your note? Click on the trash can to permanently delete.